Descrizione
NAVIGATION BY TRUCK
Offering customized 1 truck routes based on vehicle size and height, the dēzl ™ LGV800 is the easy-to-read 8-inch navigator that gives professional truck drivers a clear view of the road.
Don't miss a single detail. The large 8-inch touchscreen can be mounted in landscape or portrait mode.
Get the best route for your vehicle with custom truck routes 1 and helpful alerts such as elevation changes along the way.
Is it time to take a break? Truck Parking Europe data is displayed along the route.
Do you need a shower? A refueling? Use the Truck & Trailer Service database.
Find loading or unloading areas with the best directions in the industry.
Speak with me. Enjoy the convenience of voice control and hands-free calling 2 .
Always get the full picture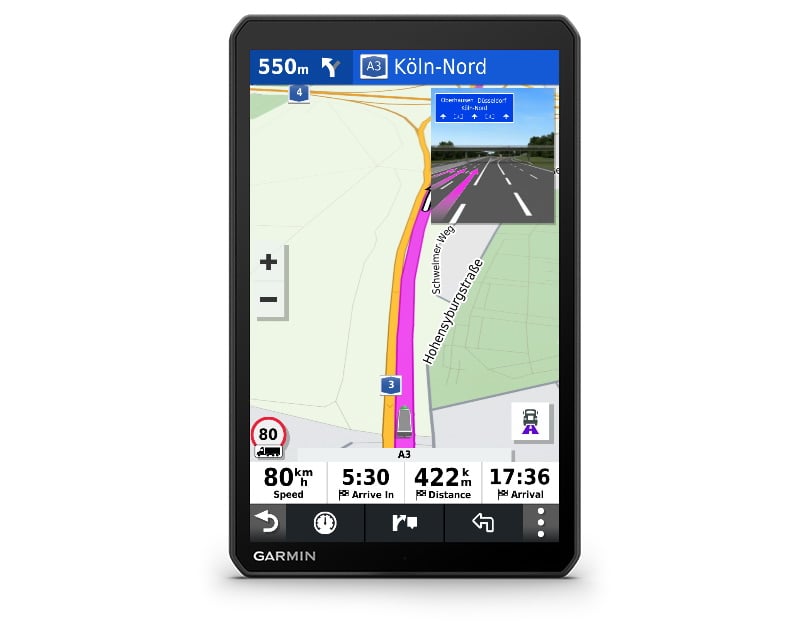 EXTRA-LARGE SCREEN
With a bright, sharp 8-inch touchscreen, this dēzl truck navigator is designed to offer an optimized cockpit view and intuitive operation. Choose to view the screen in landscape or portrait mode.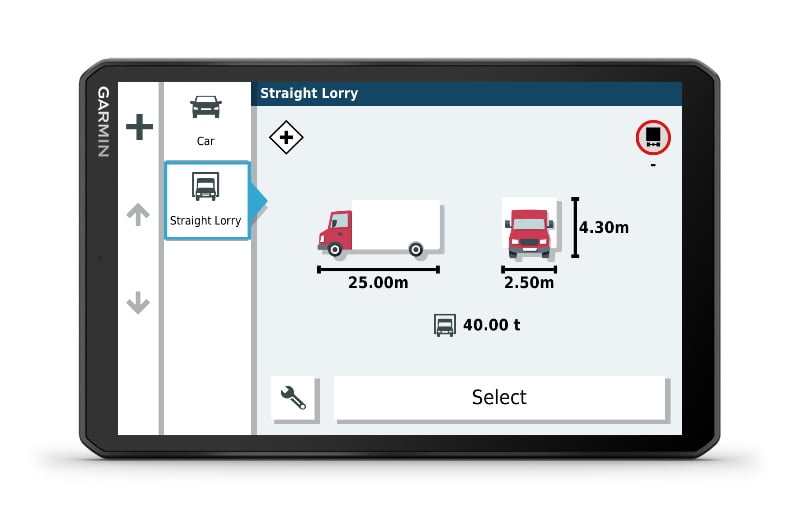 ROUTES FOR PERSONALIZED TRUCKS
Simply enter the truck profile (customizable for height, weight, length, width and hazardous materials) to find the preferred truck routes best suited to your vehicle and type of load 1 .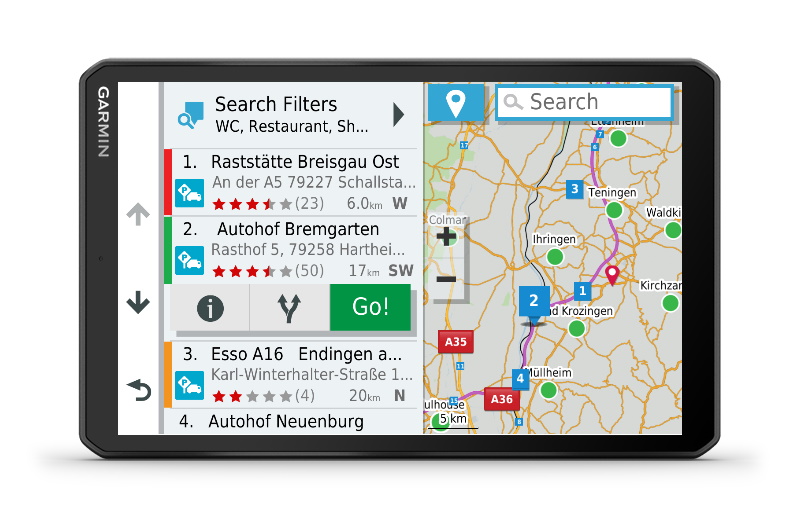 TRUCK PARKING EUROPE
Do you need to park your vehicle? Truck Parking Europe data allows you to locate truck parking spaces along your route. Filter by your favorite services, like Wi-Fi ® , showers, presence of surveillance and much more. And while connected to the Garmin Drive ™ app , check for parking to reduce the risk of arriving in a crowded area.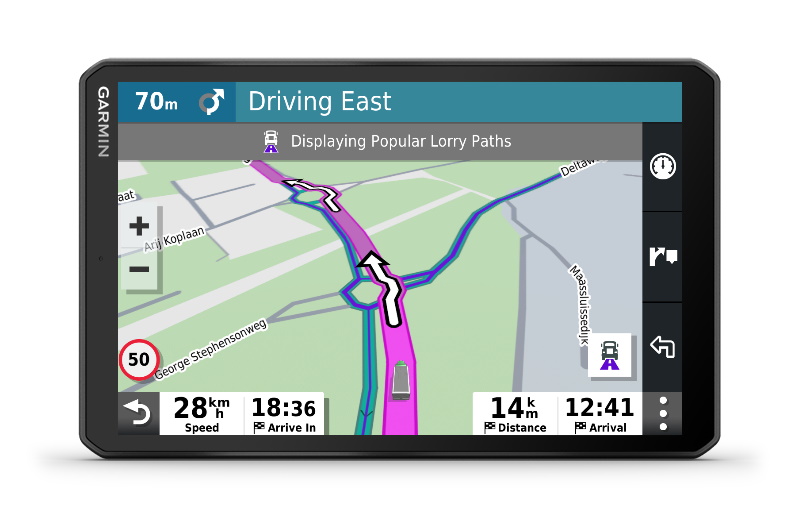 POPULAR ROUTING
Are you on unknown roads? View the most popular truck routes used by other hauliers to improve your knowledge of your surroundings.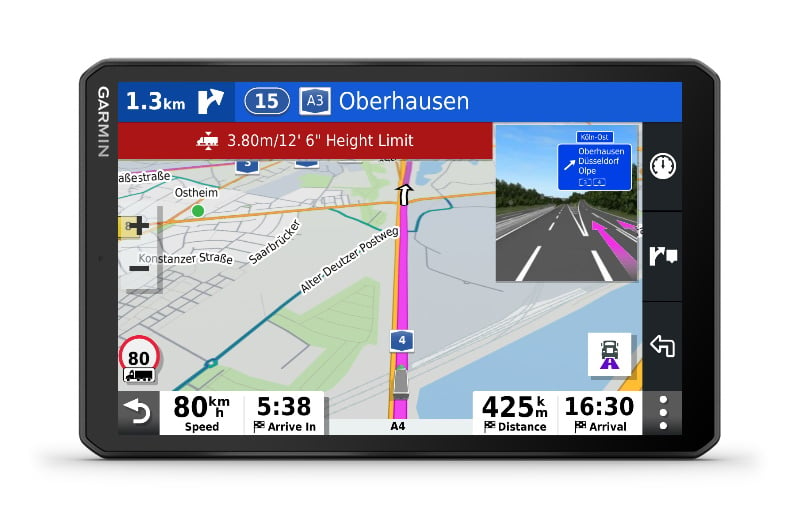 NOTICE TO THE DRIVER
To promote safer driving and improve your knowledge of your surroundings, driver alerts warn you of sharp bends, speed changes, level crossings and more.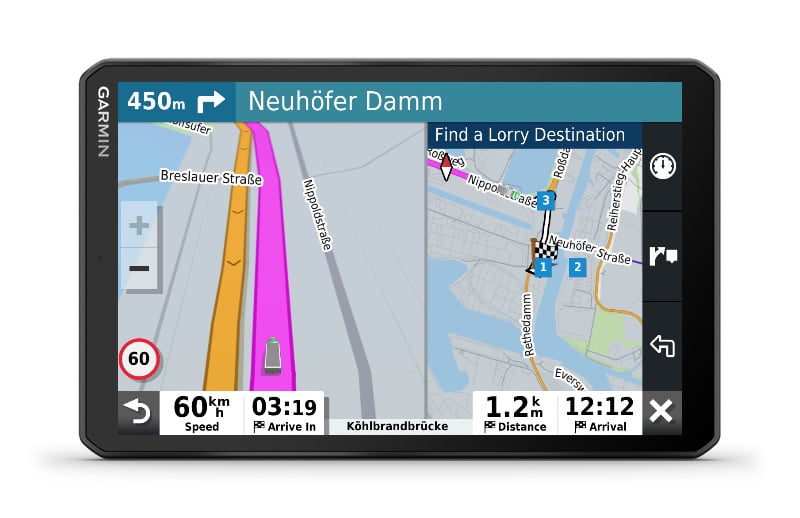 INDICATIONS AT THE LOADING / UNLOADING POINT
As you approach your destination, our loading / unloading point directions show potential loading areas or storage centers to show you where to go.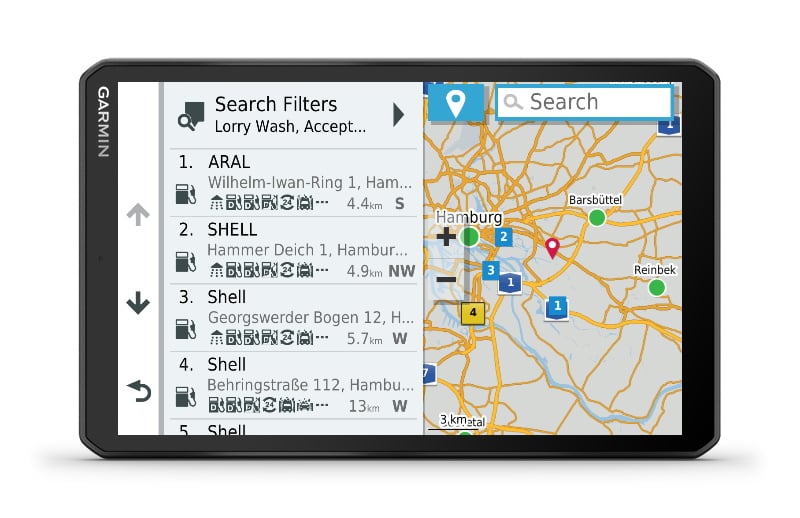 CHOOSE THE SUITABLE PARKING AREA
Find your favorite rest areas with the preloaded Truck & Trailer Service database, which allows you to filter listings by brand or service.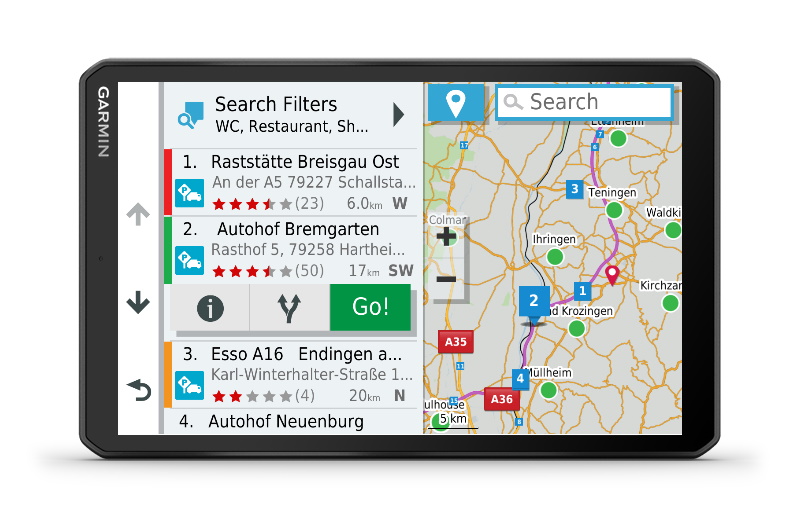 DIGITAL TRAFFIC
The supplied DAB traffic cable is ready to use and provides timely and accurate updates on traffic conditions. This way, you can avoid accidents, roadworks and other obstacles.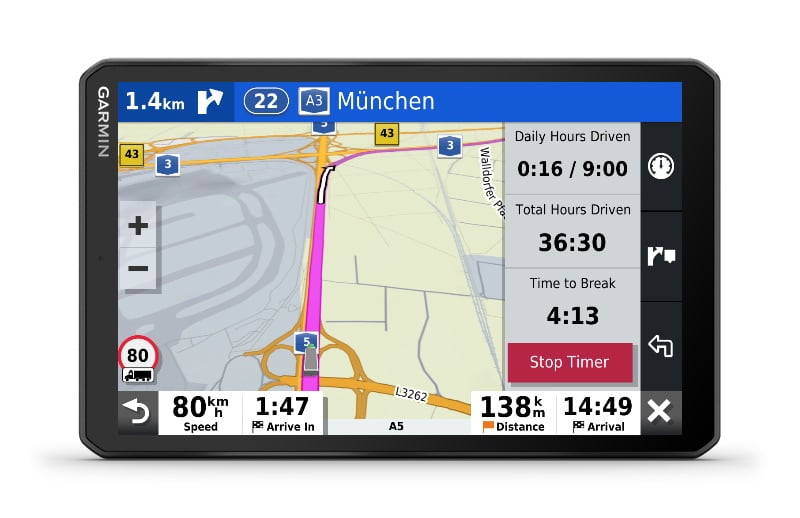 SIMPLIFIED STOP PLANNING
Receive timely notifications that will help you make the most of every stop.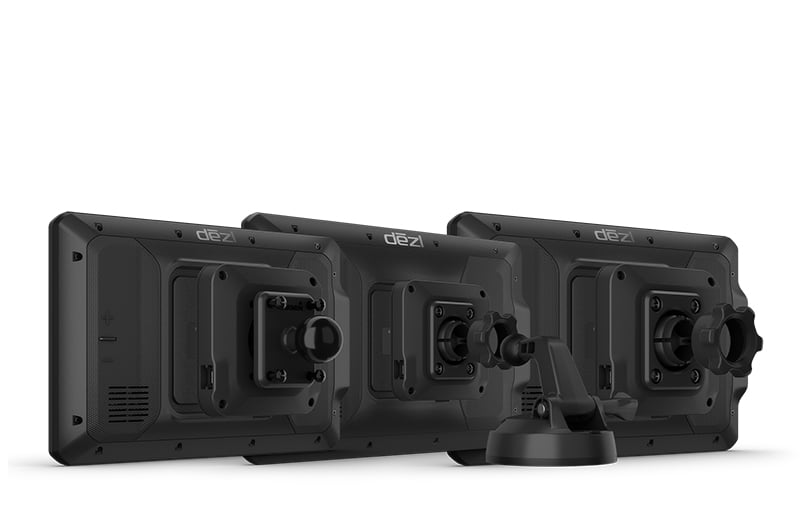 MOUNTING OPTIONS
dēzl LGV800 comes with several mounting options, including a magnetic powered mount with a high-strength suction cup, a RAM system adapter, and a fixed flat base mount with screw fixing.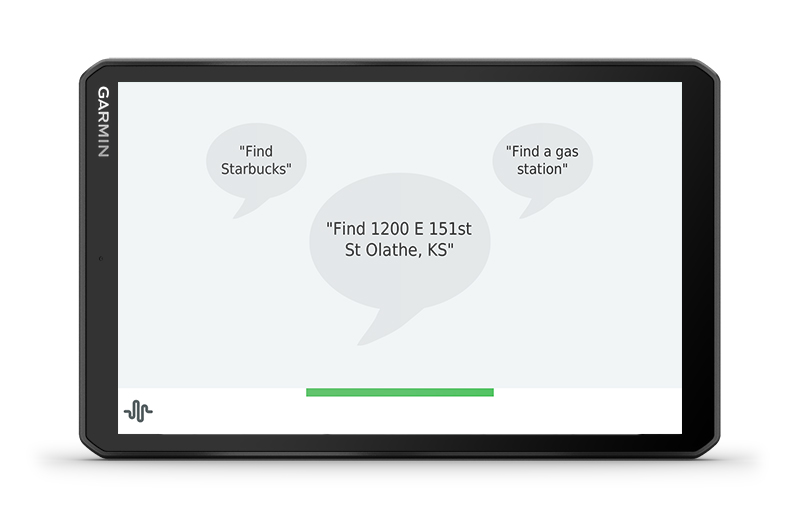 VOICE COMMAND
Do you need directions? Dēzl's voice command responds to your requests, so you can keep your hands on the wheel and your eyes on the road.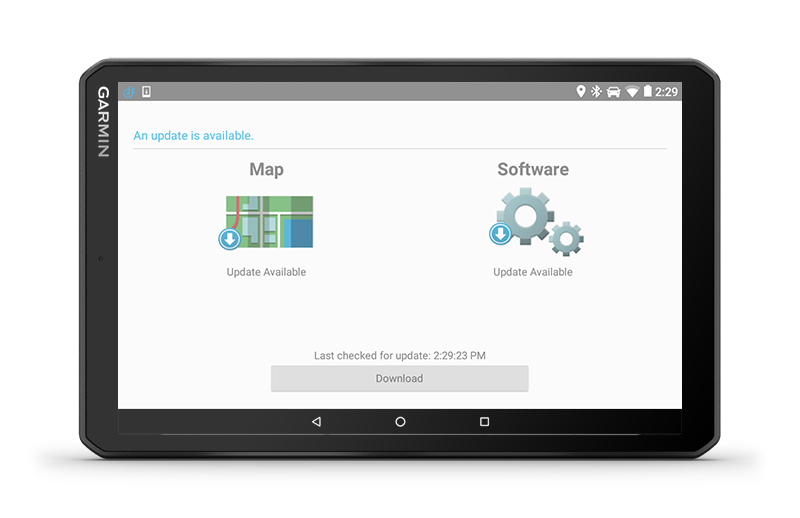 WIRELESS UPDATES
Built-in Wi-Fi ® technology makes it easy to update maps and software without using a computer. The on-screen indications show when new updates are available.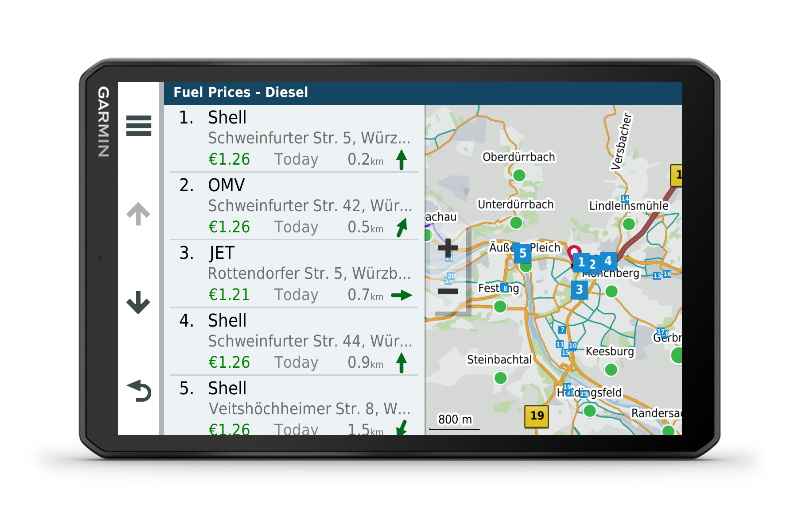 TRAFFIC, WEATHER & FUEL PRICES
Pair the dēzl LGV800 with your smartphone and download the Garmin Drive app to access real-time 3 traffic data, weather and fuel prices. You will also be able to access photoLive traffic cameras (where available).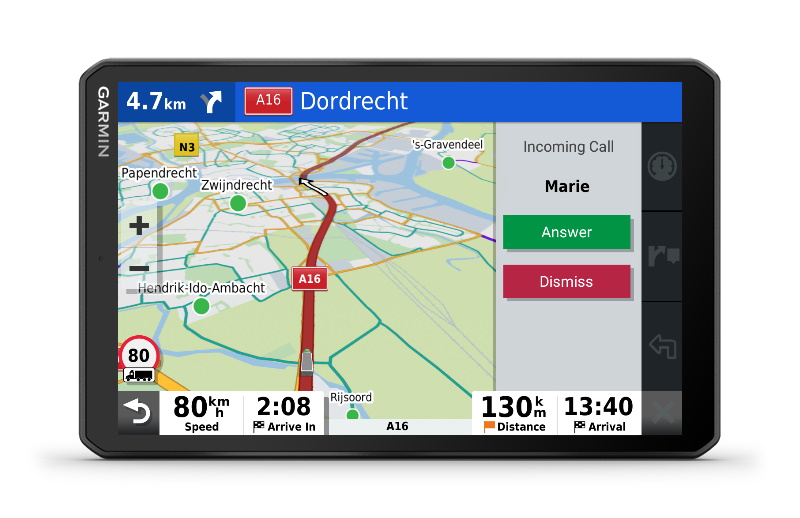 HANDSFREE CALL
Integrated Bluetooth ® wireless technology allows you to synchronize your compatible smartphone with the dēzl navigator to make calls without taking your hands off the wheel 2 .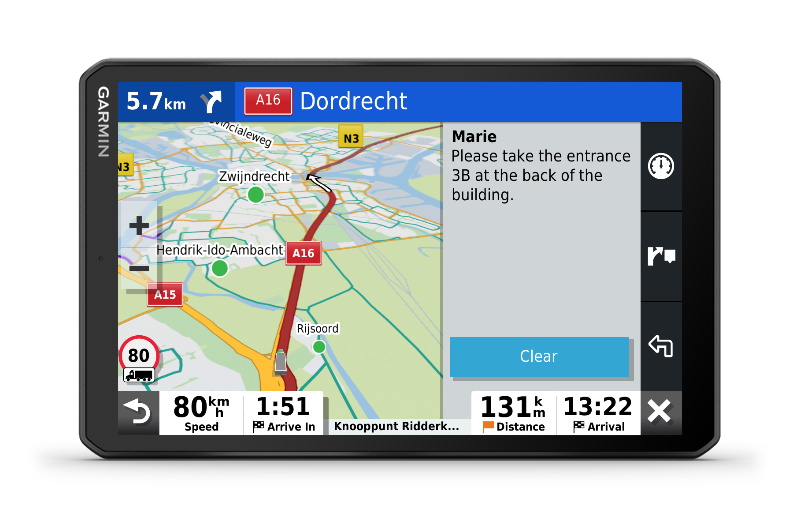 SMART NOTIFICATION
When paired with the Garmin Drive app, you will be able to view text messages and other 3 notifications received on your smartphone from the navigator screen.
Don't give up on comfort when you travel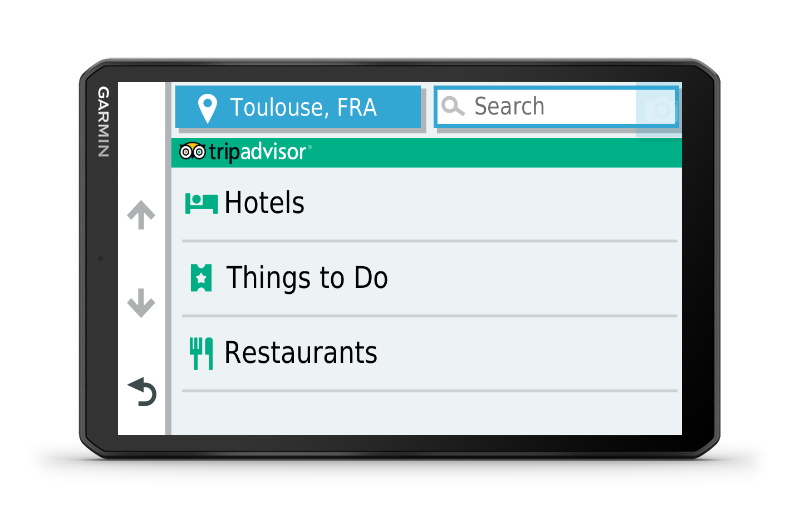 TRIPADVISOR
View TripAdvisor ® traveler reviews for hotels, restaurants and attractions along your route or near your destination.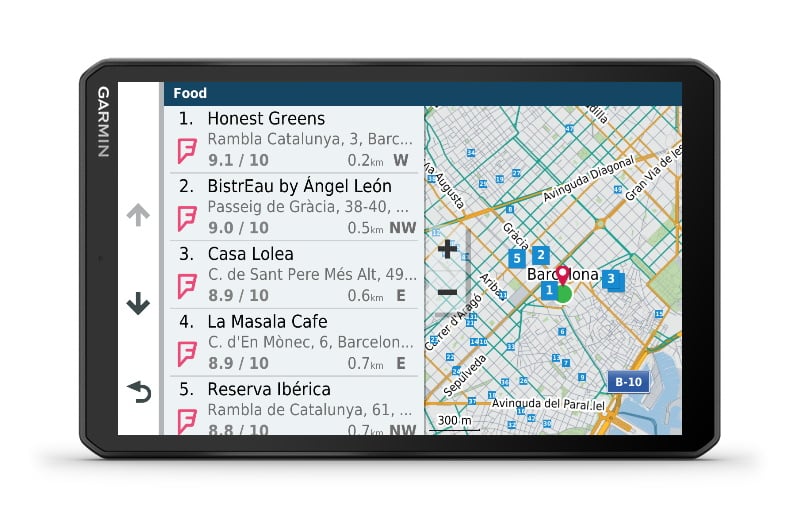 SEARCH BY NAME
Foursquare ® preloaded content makes it easy to discover millions of new and popular locations.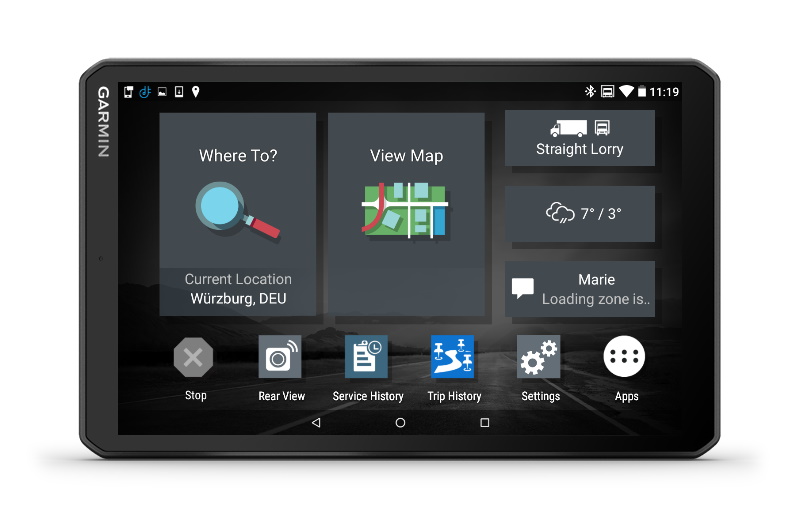 MAP COVERAGE
Drive in confidence with included map updates and preloaded road maps for Europe.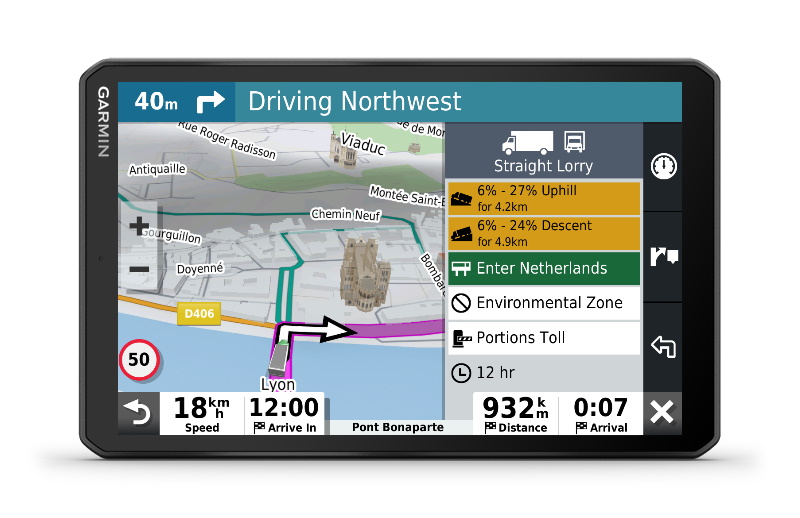 CALCULATION OF THE INSTANT ROUTE
Find the best route faster – and go sooner – when you pair the dēzl LGV800 with your smartphone using the Garmin Drive ™ mobile app 2 .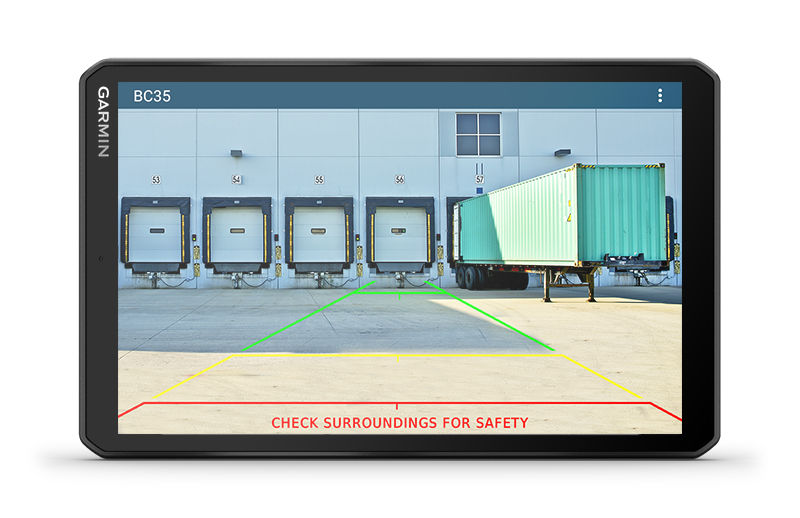 ADD A REAR CAMERA
See any obstacles behind the truck as you reverse by pairing the dēzl navigator with a BC ™ 35 wireless backup camera (sold separately) or a third party rear view camera 4 .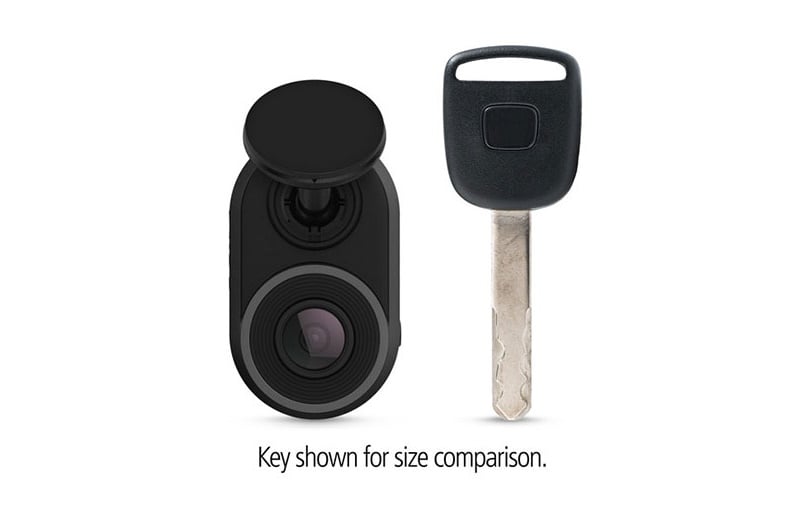 GET A WITNESS
A Garmin Dash Cam ™ acts as a reliable eyewitness and automatically records and saves video during the longest runs. Sold separately.
1 Not available in all areas. Entering the truck profile does not guarantee that vehicle characteristics are taken into account for all suggested routes. Always refer to the signs and road signs present and the road conditions.
2 Requires a Bluetooth smartphone (sold separately).
3 To use this feature, you need to download the Garmin Drive app to your Bluetooth and GPS smartphone.
4 Available only with dēzl LGV800 and LGV1000 and requires magnetic bracket with video input (sold separately).
© HERE. All rights reserved. © 2020 TripAdvisor LLC. All rights reserved. Foursquare® is a registered trademark of Foursquare Labs, Inc. TruckDown® is a registered trademark of TruckDown Info International Inc. The Bluetooth word mark and logos are registered trademarks owned by Bluetooth SIG, Inc. and their use by Garmin is under license . Wi-Fi® is a registered trademark of the Wi-Fi Alliance.