Opis
Napredna navigacija s pametnimi funkcijami
Enostaven za uporabo GPS navigator s povezanimi funkcijami in svetlim 5,0-palčnim kapacitivnim zaslonom na dotik

Podrobni zemljevidi Severne Amerike z vključenimi posodobitvami zemljevidov

Ponuja storitve v realnem času, kot sta promet v živo in parkiranje v živo

Klicanje Bluetooth® 

4

 , pametna obvestila 

5

 in glasovno aktivirana navigacija

Vgrajen Wi-Fi 

®

 za enostavne posodobitve zemljevidov in programske opreme

Ostanite povezani za volanom z Garmin DriveSmart, navigatorjem, ki poleg koristnih opozoril za voznika in enostavnih navodil vsebuje zbirko pametnih funkcij. Od prostoročnih klicev in prometnih informacij v živo do vgrajenega Wi-Fi in še več – prihodnost je v vašem Garminu. Samo poglejte naprej in vozite.
Storitve v živo za vaš pogon
Zamaške prelisičite z nadomestnimi potmi, ki prihranijo čas, ali pa se jim povsem izognite. Nato z informacijami v živo porabite manj časa, da obkrožite blok in poiščete parkirišče. Za prometna opozorila, ustrezna navodila za preusmeritev in najnovejše vremenske napovedi prenesite aplikacijo Smartphone Link , ki Garmin DriveSmart poveže z združljivim pametnim telefonom. Ko se približate cilju, odpravite stres s parkiranja, tako da si ogledate trende cen in razpoložljivosti za javno parkirišče na ulici. Aplikacija Smartphone Link omogoča tudi LiveTrack², ki voznikom omogoča, da delijo svojo lokacijo, tako da lahko prijatelji spremljajo, kje ste, ali se ukvarjate z opravki po mestu ali se odpravite na daljše potovanje.

Vstavljanje pametnega v pametno povezljivost
When you sync your Bluetooth-enabled smartphone to Garmin DriveSmart, you get great features that let you stay connected without taking your hands off the wheel. Make hands-free phone calls and receive customizable smart notifications on your navigator's display. That means you can see incoming calls, text messages and calendar reminders without ever having to reach for your phone.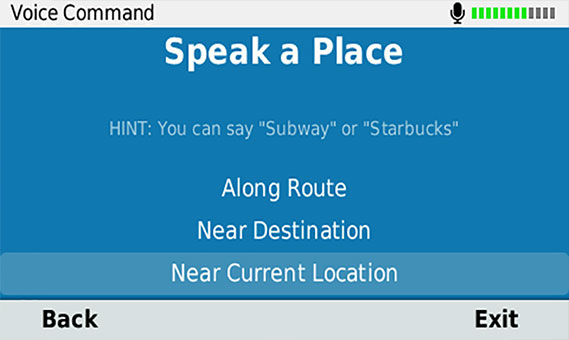 Voice-activated Navigation
Need directions? Just say the word. Garmin DriveSmart features voice-activated navigation that responds to your commands and then navigates to where you need to go.
Wi-Fi Keeps You up to Date
We make it easy to keep your maps and software up to date now that the Garmin DriveSmart navigator features built-in Wi-Fi. When a new update is available and you're on your wireless home network, you'll automatically receive an onscreen notification. That's your cue to plug your device into any outlet and let it update over Wi-Fi while it charges. Then you'll be ready to hit the road again.

Driver Alerts: Know Your Surroundings
To encourage safer driving and increase situational awareness, Garmin DriveSmart provides driver alerts for sharp curves, speed changes, railroad crossings and animal crossings. Additionally, the navigator will warn you when driving the wrong way on a one-way street and alert you to nearby schools and school zones. Receive notifications for nearby red light cameras and speed cameras6, and even get fatigue warnings7 that suggest potential rest areas after several hours of driving.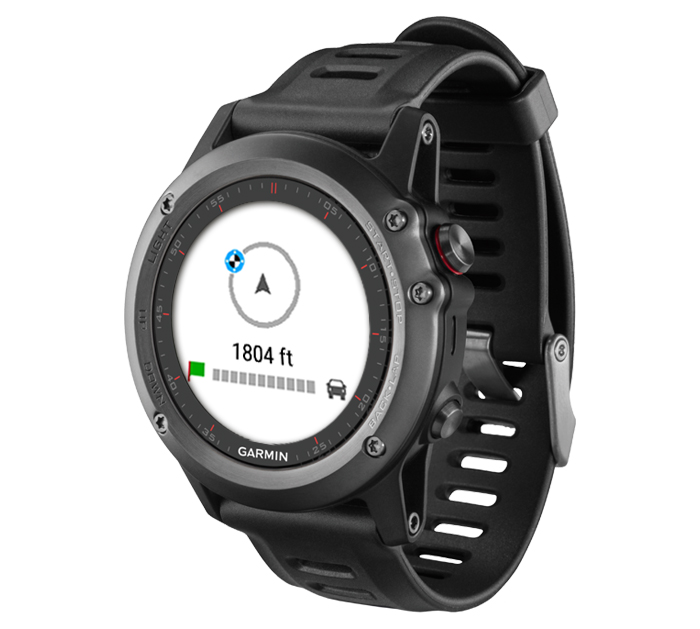 More Navigation from Your Garmin Smartwatch
When you pair this navigator with your compatible Garmin smartwatch (sold separately), you can receive navigation right on your wrist, even after you've parked your car and are walking toward your destination. Also get helpful driver alerts on your watch. Don't worry about losing your car in a crowded parking lot; your smartwatch provides compass guidance from your parked vehicle to your destination and back to your vehicle again.
Road Trips Just Got Better with TripAdvisor®
When you're not familiar with the area, it's nice to have something to point you in the right direction. That's why we're bringing TripAdvisor to your Garmin DriveSmart navigator. View ratings for travel points of interest, such as hotels, restaurants and attractions, along your route or near your destination. From the world's largest travel site directly to your car, we're helping you find the stops that make the entire journey part of the destination. Also locate new attractions with the built-in Trip Planner tool, which adds fun to road trips by suggesting interesting stops along the way.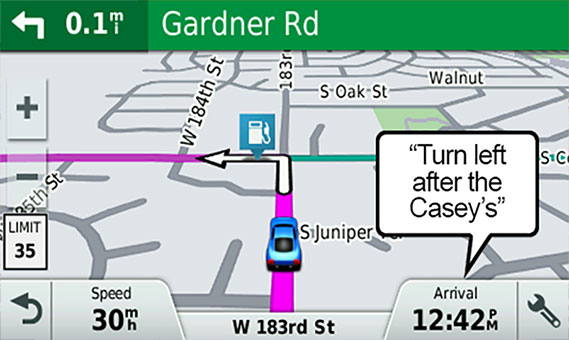 Friendly Guidance from Garmin Real Directions™
Redefine "spoken turn-by-turn" directions with Garmin Real Directions. Our easy-to-understand driving directions use recognizable landmarks, buildings and traffic lights in addition to spoken street names, guiding you as if your best friend is sitting in the passenger seat. No more squinting to read distant street signs. Just listen for Garmin Real Directions to tell you, "Turn left after the QT," or "Turn right after the red building." Following directions has never been easier.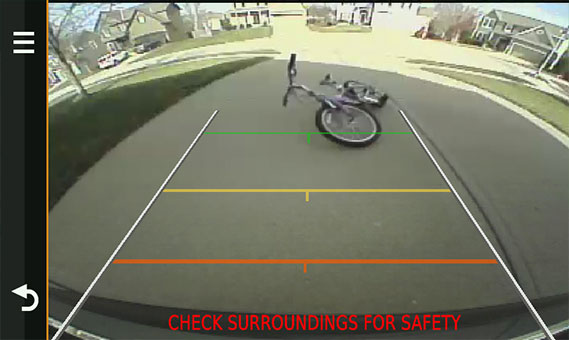 Works with Garmin Backup Camera
For a complete navigation solution, Garmin DriveSmart pairs with the BC™ 30 Wireless Backup Camera (sold separately; professional installation recommended). Once connected, you can easily see vehicles, pedestrians and other obstacles right on the Garmin DriveSmart display as you move in reverse.
High-quality Maps
The quality of map data can make all the difference between finding your destination and getting lost. High-quality HERE map data enables your Garmin device to provide you with the information you need, when you need it most — reducing the frustrations of driving by avoiding delays and cutting down the time you spend in your car.
¹Maps Terms & Conditions
²To access live information, you must download the free Smartphone Link app.
³Parking data is available for most city centers. For coverage details, visit parkopedia.com.
4Requires Bluetooth-enabled smartphone (sold separately).
5To recieve smart notifications on your navigator, you must download the free Smartphone Link app. User's data plan charges, if any, will apply. Contact your mobile service provider for more information about your service plan's data and roaming rates. Requires Bluetooth-enabled smartphone (sold separately).
6Opozorila o rdeči luči in hitrosti niso na voljo v vseh regijah. Za več podrobnosti o plačljivih naročninah na posodobljeno vsebino si oglejte svojo regijo.
7 Opozorilo o utrujenosti se aktivira po daljših zaporednih vožnjah brez daljših postankov na poti.
© 2017 TripAdvisor LLC. Vse pravice pridržane. Besedna znamka in logotipi Bluetooth® so zaščitene blagovne znamke v lasti Bluetooth SIG, Inc. in kakršna koli uporaba takšnih znamk s strani družbe Garmin je pod licenco. Wi-Fi® je zaščitena blagovna znamka združenja Wi-Fi Alliance. Foursquare® je registrirana blagovna znamka podjetja Foursquare Labs, Inc.